There will be no more wonderful music for your ears than listening to the confirmation of your flight to the magical island of Ibiza. If it is also Holy Week and you could enjoy a sensual and warm company, better than better. On this occasion we will recommend the best places to satisfy your appetite for pleasant sensations.
If you have chosen these dates to visit us, you are surely looking to enjoy alternatives that you can only find in a place that, like Ibiza, not only offers you a wide range of experiences in leisure, entertainment and gastronomy, but is also the sexy  friendly of the Mediterranean islands. So, get ready because we are going to share with you the best places to enjoy outings with your sophisticated High Level Female Companion.
The best environment in the best climate
Ibiza is one of those European destinations with a privileged climate, so be prepared to enjoy exquisite walks on the beach, with the hand of your attractive companion and then relax in Amante Beach Club  or Nassau  they will put the best environment to motivate it.
Or maybe you want to take a stroll through Marina Botafoch, Ibiza Town's most exclusive neighborhood next to lavish yachts and spectacular views of the Mediterranean. In this case, you can not miss the sunset enjoying your favorite cocktail in  Sa Calma Bistró , seeing as the boats return to port, while the last rays of sunlight illuminate the castle of Dalt Vila, a World Heritage Site.
From there and without taking the car you have the best gastronomy of the island in the restaurant Sa Nansa, where you can enjoy the traditional seafood cuisine of the island. But if you want to enter the peaceful pine forests that spill out to the sea, do not miss the Restaurante Sa Caleta,  of a traditional Ibiza fishermen and gourmet family.
The most distinguished Fiesta venues to meet with a high-level female Acomapañante in Ibiza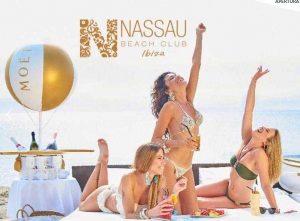 Of course you can not stop being in Ibiza without visiting the most emblematic clubs of the island, we refer of course to Pacha  and  Ushuaia  perhaps the two best examples of how the celebration can make you live paradise. We recommend you visit the two, although very different, both will make you live incredible experiences, we assure you that your girl and you, will have a great time.
And of course, the coasts of the island have a special attraction in this time and there you will also find that rare conjunction of party, nature and sensuality that you can enjoy while visiting two incredible places for your enjoyment, Malibu Salinas unlike what is without doubt the best beach on the island and Cala Bassa Beach Club  in the deep island, between rocks and pine forests.